PolyVivo
Customers benefit from "Multi-gram Discounts" shown to the right of the product descriptions.
Discounts & Coupons 5%
We know budgets and timelines are strained so we offer some discounts to help out.
New customers are eligible for a 5% discount on the first order: use Discount Code firsttime.
Enter the discount code in the My Shipping and Billing Information section under Remembered Settings when you place the order.
Contact John Garner to learn more about these and other discount promotions.
Research Coupons 25% & 10%
Have you published research with Akina material? If so send us evidence of your publication which includes "Akina, Inc." listed as the reagent source in your publications materials section and we will send you a coupon code good for an additional 25% discount on any order.
Not quite published yet? Send us a non-confidential write up of your research using an Akina product and permission to use it in advertising and we will return to you a coupon code good for an additional 10% discount on any order. You can let us know whether you want your name and/or contact information included as the source of the research or if you choose to remain anonymus.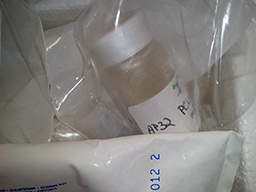 AP032 Ready to Be Shipped