COVID-19 Response - Akina
Please note that the Akina products listed below are a temporary COVID-19 response to a public health emergency undertaken by Akina, Inc. These products do not represent new business ventures or permanent product lines for Akina.

---
Due to low availability, we are providing the following cleaning and disinfectant supplies. The cost is as listed plus the price for shipping to your location. To order, call us at 765-464-0501. Order limitations may apply. Locally, several of these items can also be purchased through the West Lafayette ACE Hardware.

Product
Description
Cost
Handy Sanitizer
70% ethanol hand-sanitizer
$55/1 gallon
Swipers
Disinfecting wipes
(wetted with 70% isopropyl alcohol/ 0.05% benzylalkonium chloride)
$7.50/ cannister (50 wipes),
$4.00/foil-lined resealable pouch (30 wipes)
AkinaQuat
0.4% Quaternary Ammonium Chloride disinfectant
(liquid formulation for spray-bottle refill)
$2/8 oz bottle
---
About Disinfection and Spread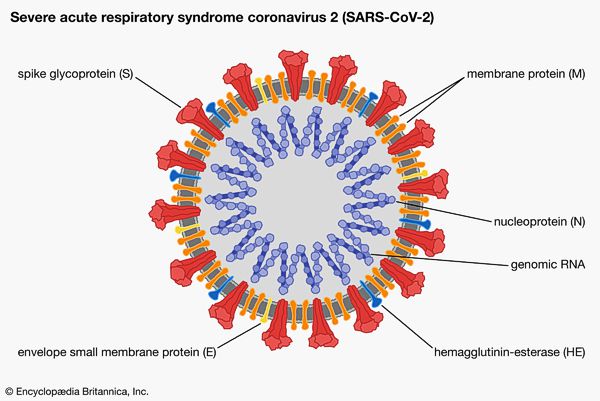 SARS-CoV-2
The coronavirus SARS-CoV-2, the cause of the COVID-19 pandemic.
Encyclopædia Britannica, Inc./Patrick O'Neill Riley
There are many strategies to disrupt and destroy ("inactivate") viral replicants on external surfaces including oxidizing agents (bleach, hydrogen peroxide), biocidal agents (cationic surfactants), and agents which induce denaturation of the proteins (alcohol) (www.sciencedirect.com). Notably, concentrated alcohol solutions (~ 60 – 80% v/v) will typically disrupt the hydrophobic (organic soluble) portions of proteins and cause these proteins to unfold and change shape so that they are no longer functional. By disrupting the protein capsule surrounding the RNA, alcohol solutions can be an effective means to destroy viruses including COVID19. Note that these disinfecting strategies are used ONLY for external cleaning applications as these same processes which disrupt the virus will also disrupt human cells as well.

The conventional household cleaners and sanitizers already in use prior to the pandemic typically used these disinfecting strategies. However, severe supply disruptions have left these essential supplies critically short (www.fda.gov). To do our part in alleviating this, Akina has begun manufacturing these materials. Akina intends to continue providing these essential resources only as long as the conventional supply chains remain disrupted as a result of the current COVID-19 pandemic.
---
Handy Sanitizer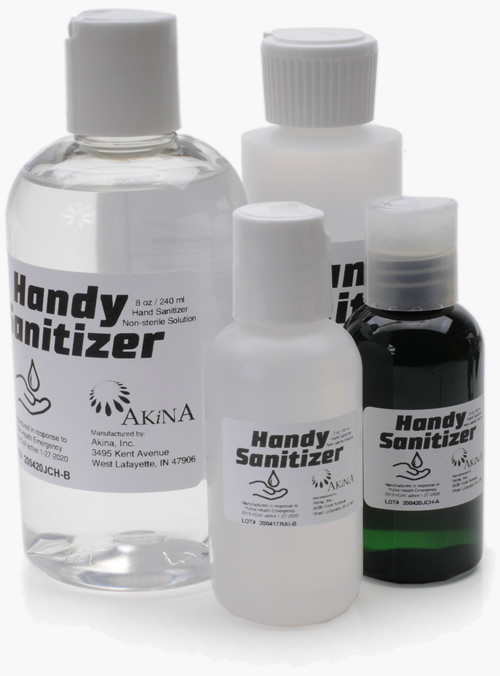 Akina Inc. Responds to Community Need for Hand Sanitizer
In response to the COVID-19 outbreak Akina, Inc. began manufacturing 70% Alcohol hand sanitizer gel and made available through the locally-owned West Lafayette ACE Hardware store. From March 25th to May 1st, Akina provided 6617 (2-oz), 799 (4-oz), 346 (8-oz), 12 (32 oz) Handy Sanitizer dispenser bottles, as well as several dozens of gallon refill bottles. If you are interested in purchasing Handy Sanitizer in the greater Lafayette, IN area, we suggest you contact our retail partners at ACE hardware by calling 765-497-2727.
In addition to being antiseptic, it should also be noted that Handy Sanitizer has no artificial colorings or perfumes. This aspect has been reported as being a beneficial property for people with allergies to certain perfumes or dyes.
Handy Sanitizer Manufacturing
Handy Sanitizer is manufactured on-site at 3495 Kent Avenue, West Lafayette, IN by trained personnel according to lot-traceable batch record sheets/standard operating procedures using United States Pharmacopeia (USP) grade ingredients. For consistency in preparation, the gel solution is made according to weight and the composition is described below for a ~6.3-kilo scale batch. The method of manufacture is to dissolve the HPC into the water first and then mix this in with the alcohol and other ingredients with copious stirring/agitation to disperse out the HPC thickening agent into the solution. Resultant viscosity is typically in the range of 1500 – 3000 cP (20-25 °C, Brookfield #31 spindle) and density in the range of 0.8 – 0.9 g/ml.
Ingredients

Item No.

Component

Weight in Batch (g)

1

Deionized Water ( > 18 mOhm)

1560

2

Hydroxypropyl Cellulose (HPC, Klucel HF)

45

3

Ethanol (Decon Labs)

4380

4

Isopropanol (70% Isopropyl alcohol)

180

5

Glycerin (USP)

180

Total Batch Weight (g):

6,345
---
Swipers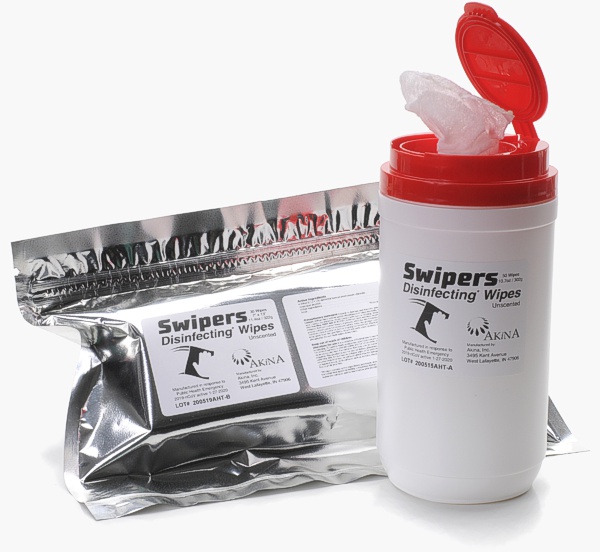 Disinfectant Wipes
In addition to hand-sanitizer, disinfecting wet-wipes have become short in supply. Akina, Inc. has begun the manufacturing of 70% isopropyl alcohol/0.05% benzyalkonium chloride (a.k.a. alkyldimethylbenzylammonium chloride, BZK) disinfecting wipes to assist with the supply shortages in the local area. The isopropyl alcohol provides a first-pass inactivation while the BZK remains on the surface to provide continuous inactivation. These ingredients have been indicated by the Center for Disease Control (CDC) for efficacy against viruses including enveloped (hydrophobic) viruses such as coronavirus. Swipers disinfecting wipes are available through the locally-owned West Lafayette ACE Hardware store. If you are interested in purchasing Swipers in the greater Lafayette, IN area, we suggest you contact our retail partners at ACE hardware by calling 765-497-2727.
---
AkinaQuat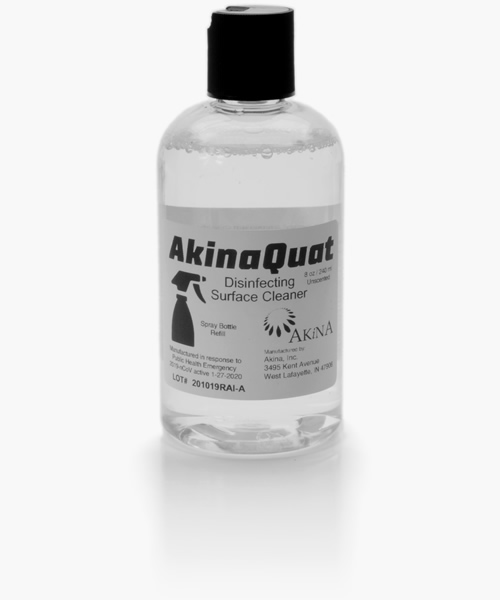 Odorless Disinfecting Surface Cleaner
Due to the low availability of various spray disinfectants and cleaning solutions, Akina, Inc. has begun manufacturing of 0.4% Quaternary Ammonium Chloride disinfectant hard-surface cleaner/refill bottles. This solution can be loaded into an empty spray bottle, filled into a cannister with dry wipes, or applied directly to hard surfaces with a sponge or wash cloth. No perfumes, colorants, or other unnecessary ingredients are added to this solution. Active ingredients in product are hard surface disinfectants against SARS-CoV-2 (EPA Reg. No. 1839-83). For a limited time, we are offering AkinaQuat for direct purchase. We are limiting order to 2 units per order. Price is $2.00 per 8oz. bottle plus USPS shipping. To order, call us at 765-464-0501.